The Case for Christian Education – Jana Van Zante
The Case for Christ, by Lee Strobel, is one of my favorite books. Strobel, a former atheist and legal journalist, investigated Jesus and Christianity, determined to shred both to pieces. However, after thoroughly investigating common atheist arguments, he determined these held no weight compared to the proof of Christianity. Now I'm no Lee Strobel, but I have something to defend – Christian education. As a mom of two school-age kids and a teacher at Sully Christian, I've been jotting notes and capturing precious snapshots in my head for many years. With Christian education not prioritized like it once was, I feel compelled to share my observations. I'll present some arguments against Christian education and debunk these arguments with "data" I've collected through the years.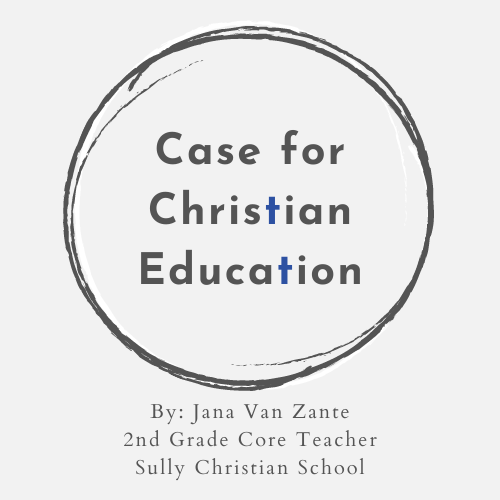 Argument #1:
A Christian school just adds a Bible class and occasional chapel. How I wish I could show you all the ways the Biblical perspective is woven through curriculum! But for now, I'll just tell you of an abstract art piece centered on John 3:16, a STEM boat lesson focused on Jesus walking on water, a science test centered on God as creator, a junior high social studies curriculum that ties in Biblical history, a reading curriculum that connects to scripture, kindergarten geography that incorporates prayer for different countries, a second-grade skeletal unit that focuses on being "fearfully and wonderfully made", and meaningful music programs that praise Jesus. I could easily fill a book full of examples!
Argument #2:
Christian education shelters kids and doesn't allow them to share their faith. We can't expect kids to be apologists out in culture when they're six years old. Instead, we must give them a safe, encouraging space where they can develop their faith. And within this kind of space, I think kids are even more encouraged share their growing faith. I think of our eighth grader who loves on all our younger kids and writes them notes and gives them candy. She shows them Jesus daily. I remember my grandpa dying and my second graders immediately asking if they could pray for me. I think of one of our teachers who went through such a hard time and received a video full of Bible promises from our students. I think of student-led chapels and Prayer Partner activities where kids pray for one another. I'm so glad our students have many opportunities to share their faith!
Argument #3:
"But I've heard this about (insert school name). I'm not interested if this is what happened years ago." Our school is not perfect. We never have been, and we sure never will be. But I can confidently say that in the last few years, the Spirit has been deeply at work. I can't capture this feeling in words, but I'll try to give you a glimpse: We have a school board dependent on the Spirit and the power of prayer. We have teachers so wholeheartedly committed to raising disciples, there's no time for gossip or negativity. We have such a kind, loving society that will give of its time and money so kids can know Jesus more fully. And we have kids who, though far from perfect, are generally kind and humble. The Spirit is at work, and I'm so thankful. Please don't let past mistakes, stories or rumors keep you from giving our school (or Christian education) a try.
And let me end with just a final snapshot, a precious one that's been lingering in my mind for weeks. A few months ago, a grandma of two of my students passed away from cancer. Both girls cried as they told our class, but then my precious little first-grader whispered, "But you know what? This is also happy news because Grandma's in a better place." How they suffered, yet how hopeful they remained! And how thankful I am to be a part of a place that constantly points children to this eternal hope. Because in the end, nothing matters more than this.