Visioning for the Future – An in-depth look at True Knowledge.
New, but not new…… Our vision statement may seem "new", but it's really not new. This is what we have been doing every day in the classroom for the last 108 years. The head, heart, hands "mantra" is simply a framework that keeps us focused on what we are striving for every day.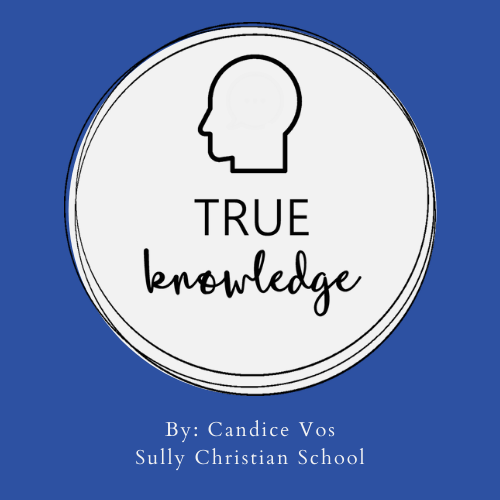 As a school, we have the awesome privilege of partnering with parents and caregivers in cultivating a Biblical Worldview for our students. On this firm foundation, we get to teach students life skills and influence them academically, socially and spiritually. We value the time we spend with each child, and we aim to use this precious time to draw the child closer to God.
At chapel on Friday, November 12, we asked the students: "Why do you have to come to school and spend so much of your childhood learning and studying? What's the point of it all?" As adults, we understand that these children will grow up and have to provide for themselves and, Lord willing, perhaps a family too. They will need knowledge so they can work a job, contribute to society and care for themselves and others. Knowledge is the source of so many good things.
However, as Christians, we know the difference between knowledge and TRUE knowledge. This is the very thing that should set a Christian school apart from a secular school. We want students to gain knowledge, but this knowledge only has value if it's built on God's Truth. We must first understand who God is, and in doing so, we better understand ourselves and who we are in light of who God is.
All curricular subjects (math, reading, science, social studies, literature, writing, grammar, P.E.) should center on this Truth, for God created these subjects and knit everything together by intelligent design. Teaching in this way will encourage a Biblical worldview that gives God glory and students an unshakeable hope and purpose in a world that's under God's sovereign hand.
The Bible is full of verses that remind us to be wise. Proverbs 1:7 states that "the fear of the Lord is the beginning of knowledge: but fools despise wisdom and instruction." Likewise, Psalms 33:8 tells us, "Let all the earth fear the Lord; let all inhabitants of the world stand in awe of Him." While the world elevates intelligence, we know we can only be truly wise when we bow to the Giver of all wisdom.
Next month, we will see how the concept of true knowledge can mold students' hearts and encourage Christ-like character. We want our students to show Jesus' love, not out of obligation, but because of their love for God. And this won't happen without the knowledge of God and the gospel.
By God's grace and the working of the Holy Spirit, we pray that our school can encourage students with God's true knowledge! As we work daily to raise up the next generation of young Christians, please continue to uphold us in prayer and support us in this important ministry!